Forrester Report - The Future of Messaging Apps

With over 3 billion consumers on messaging apps, brands face a whole new set of marketing opportunities and challenges.
Marketers now have a more efficient and effective way to get closer to customers and create dialogue that humanizes the brand. Through prompt responses enabled by digital assistants and immersive brand experiences, marketers can grow loyalty, revenue and market share.
Now is the time to change your marketing mindset and plan for a conversation-rich tomorrow.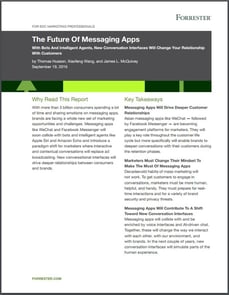 What you need to know:
Three characteristics that define the messaging app era
How conversations will replace broadcast ads
Balancing bots with human engagement
How to manage conversations at scale
Download this free Forrester report to learn how to prepare for this new paradigm shift for brand marketers.